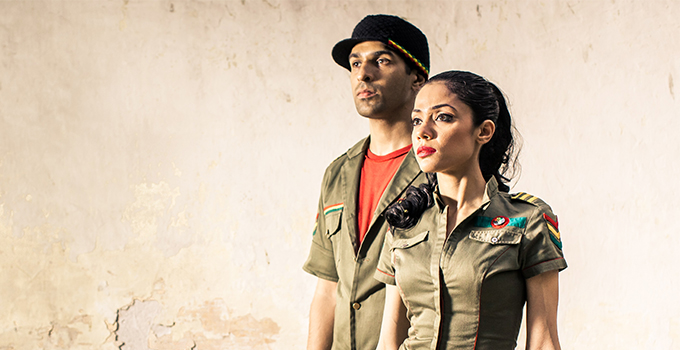 Delhi Sultanate & Begum X
Bio
Delhi Sultanate & Begum X are India's foremost Reggae & Dancehall artists. The duo has opened for Snoop Lion and Julian Marley in India and has toured the US, Europe and Afghanistan bringing reggae music to new frontiers.
Delhi Sultanate's singles  "NYC-2-India" with Subatomic Soundsystem and "Criss & Shine" respectively went to #1 on Beatport Reggae Charts and Juno Hip Hop singles charts. He has collaborated with Sizzla Kalonji for an upcoming track and has voiced dubplates for Rory Stonelove. The newest release is "Fever" on prestigious label LionDub International.
Begum X is a singer, actor and highly acclaimed yoga practitioner. Her sensual vocals rip the air with a subtle concoction of jazz, blues and rocksteady rhythms. With a voice that not just reminds you of the greatest jazz crooners from where the magic begun, but also complements the musical style of Delhi Sultanate perfectly.
Apart from their duo act they are also the lead singers of the MTV india award nominee The Ska Vengers, India's first ska and rocksteady band.
Delhi Sultanate is co-founder of the trust 'Word, Sound and Power' along with producer Chris McGuinness. The organization is dedicated to producing documentary films and musical collaborations featuring revolutionary singers from different parts of the Indian subcontinent. Word Sound and Power's film Blood Earth won the Adolf Mekas award at Experimenta film festival and is being screened at the 2014 Berlinale film festval. The group has collaborated with Asian Dub Foundation's Dr. Das, Jazz Steppa as well as Subatomic Sound System, Vienna's Dubblestandart and India's bass star Nucleya.