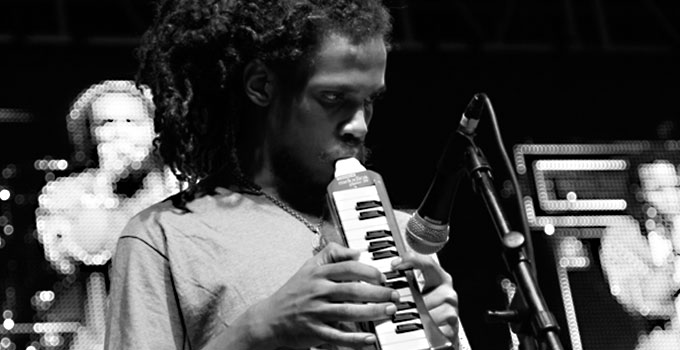 Addis Pablo
Bio
Born Addis Swaby to Horace Swaby known to the world as Melodica & Dub King Augustus Pablo and Karen Scott. Addis Pablo, in a somewhat expected step has taken up a career as a performer and producer following in his father's footsteps, a brave and challenging move considering the status and work which his father achieved and still maintains to this day across the world. However, having been raised by his father in a musical environment on Orange Street, receiving the teachings and morals expressed by Augustus Pablo, and continued to be instilled by his Mother who is and was very instrumental at the time of his Father's passing.
Addis has Co- Founded & Co-Directs two Labels/Brands Suns of Dub & One Motion Music has he aims to be able to play his melodica and produce music with the same effect which his father has had and has been getting great reception to his attempts thus far, he knows it's a far way to go and is willing to put in the time and effort to get his skills to the highest levels with the help of his beliefs in the Principles of his Father's Spiritual Religious upbringing through the teachings of His Imperial Majesty Haile Sellasie King Of Ethiopia.
Addis has been performing and practicing since the year 2005 and has been playing on his father's annual tribute with members of Rockers International, Earl Chinna SMith & the Inna De Yard Allstars and younger musician he has been working with like Cali P, Chronixx, Jah 9, Kelissa & Jesse Royal, who he has recorded or dubbed with in some way. From this time Addis has been performing on various shows in the US East Coast with Dub Reggae Band 'Dub Proof' having opened up for major acts like the Mighty Diamonds, Micheal Rose as well as Kenyatta Hill son of Reggae Legend Culture.
Having teamed up with Trindadian Producer/ Selecta & Manager 'RasJammy TriniYard' in 2010 Addis has put in much work into producing his own Rockers Reggae Melodica Tracks, as well as creating a Sound with Ras Jammy that signifies Suns of Dub, presenting Dub Reggae in a New Age Style with thats same Traditional effect and feel. Addis Pablo began his releases with the Digitial Dub Roots Compilations in 2011 & 2012 " For The Love Of Jah " featuring Ginjah, Norris Man & others and "13 Months in Zion" with Kelissa, Zebulun, Cal P & others, along with a later Digital Single release "Let I Be" both available on various online stores. Since he has been working on various Melodica Single, EP & Album projects with Labels & Producers such as VP Records, Inner Circle, Rory StoneLove, Pura Vida, Black Redemption, Gabre Selassie & a 2013 Album with Amsterdam Powerhouse Jah Solid Rock Production to name a few.
Putting focus on Suns of Dub for 2013, Addis with Ras Jammy has pre-released over 100 tracks as singles and EPs their SoundCloud Page http://www.soundcloud.com/sunsofdub gather over 10000 followers in their movement, Addis with Ras Jammy as Suns of Dub the Label, Brand, Sound and entity of sorts has released various genres and types of sounds mainly focusing on Dub & New Age Dub Reggae they have been anticipationg releases of various projects that has been in the works over the past 3 and over 30+ years with the projected 2013-2014 release of Digital & Vinyl Projects; "Inna De Yard Riddim" with Shamala Productions, "Journey to Baltimore', "Rasta Rise Again", "Suns of Dub meets Rockers International Allstars LP", "The Russian Experiment" Electro DUb EP and many more Special EPs having been influenced or contributed by countries such as India, Mexico, Japan, Trinidad … Rastafari .. With the expansion of his sound and producing capacity Addis with Jammy has EP Release under the name Suns of Dub, A new platform he will be using to promote & push his music, and original Rockers International releases look out for more music and good works including remakes of Augustus Pablo Classics such as Cassava Piece and Frozen Dub to name a few.